Project owners and administrators can add terms to a localization project at POEditor. They can import them to the project from a file or add them manually. They can also use the integrations with code hosting platforms, the WordPress plugin (when localizing a WP plugin or site) or the API.
Importing terms in the project page
In the project page, click on Import to upload strings from any of the supported localization file formats.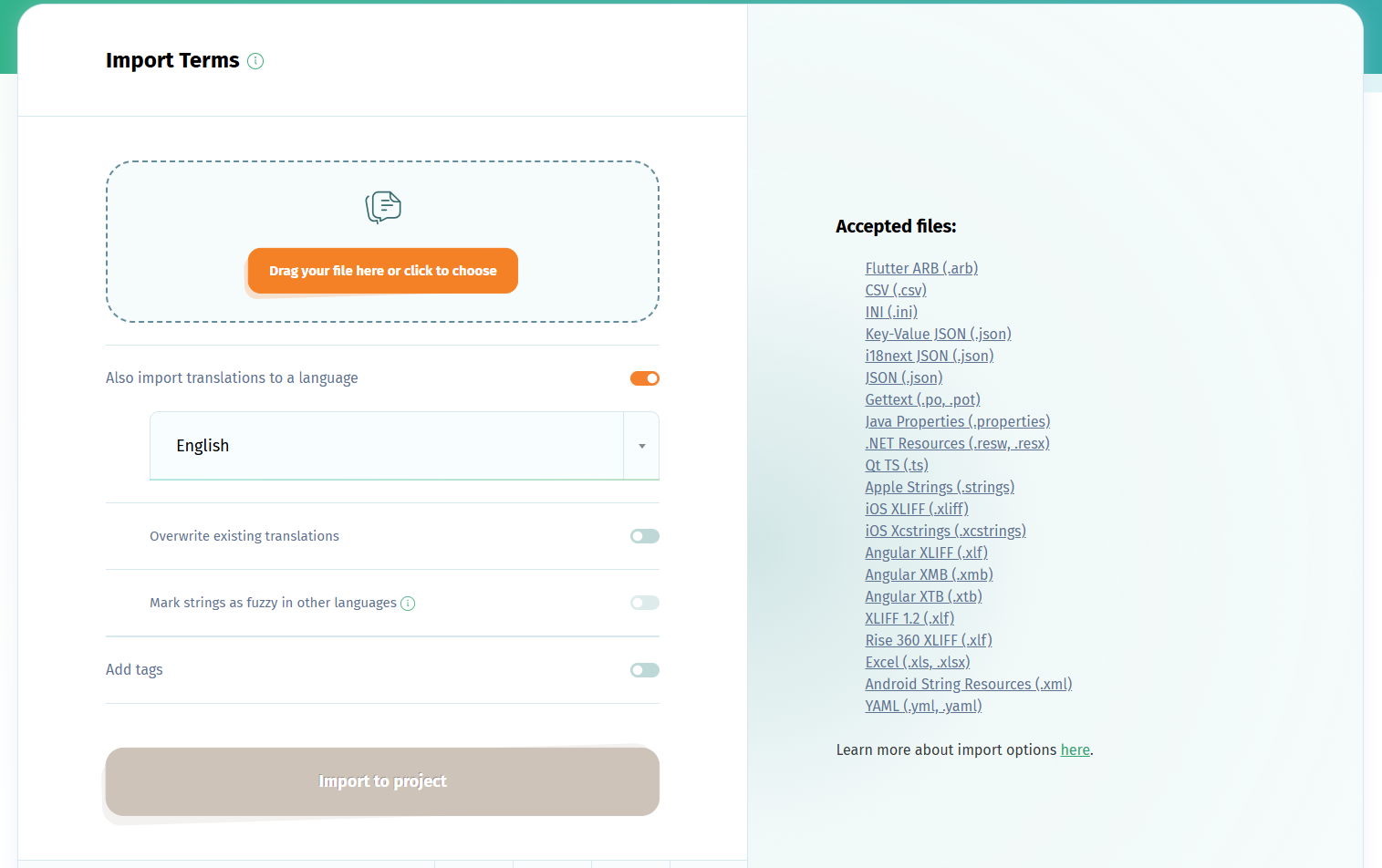 There are a number of Advanced Options you can choose at the import step. They are described here.
If your term are labels (keys/string IDs), like it's the case for Android or iOS localization files, you will also want to check the box to Also import translations to... the language in your project which you also use as source language in your software. Setting this language as Default Reference Language will show the translations in the source language on the left column, in the translation page, instead of the labels.
Manually adding terms in the Terms page
If you want to add terms manually, one by one, go to the project page and click on Terms.
You can manually add a term here by clicking on the Add term button at the bottom of the page, typing it and pressing Save.
Adding terms from GitHub, Bitbucket, GitLab or Azure DevOps
Before adding terms, you need to connect your POEditor account with your code hosting platform of choice (in Account Settings) and a language in your localization project. Then, link this language with the file in your repo containing your software's source language.
To add terms, click on the Get terms button corresponding to the language linked to that file. You don't have to click on the Get terms button for each language, unless you have different terms in the files linked to the languages at POEditor, and want to bring them all under the same project.
If your terms are labels (keys/string IDs), you will also want to import translations, checking the box next to the language, select at the bottom of the page to Import translations from GitHub/Bitbucket/GitLab/Azure DevOps and press Go. Then, set this language as Default Reference Language in the project's Settings.
Adding terms from WordPress
Before being able to add terms, you need to install the POEditor translation management plugin to your WP instance, so you can connect your POEditor account. Then, create a project and add a language to it. Link the local WordPress file to the language you've created, then press the Export button next to it to send the terms from WordPress to your POEditor project.
A more details guide to setting up WordPress localization project is available here.
Adding terms via API
To add terms with the API, use the terms/add method.
Note: To keep track of the imported strings, mark them with a tag. Tagging strings allows you to filter them during translation and on export.