Popsy is a company operating in the e-commerce domain, on a mission to "change the way people buy electronics". With a strong focus on sustainability and social responsibility, Popsy was established in 2017 and became a global leading marketplace in this domain. Providing refurbished products for all budgets, they target especially electronics lovers who are looking for a good price for value.
Their current activity involves quickly and securely trading refurbished devices, such as smartphones, laptops and tablets, without being harmful to the environment.
Challenge
Before beginning their collaboration with POEditor, Popsy experienced three main pain points: time-consuming and inefficient manual processes, challenging version control and collaboration issues.
The team's biggest desire was to leave manual work behind and take advantage of automation as much as possible. Furthermore, they wanted to increase the efficiency of the translation process by reducing the necessary time and effort, which would ultimately streamline this essential part of their software localization process.
Additionally, before choosing to work with a TMS, Popsy struggled with having the localized assets organized and well-managed. In other words, what the team needed was a proper system of version control to assist them in tracking and documenting changes, ensuring a better collaboration between team members, and handling situations where errors often occur in the localization process.
Popsy also reported that securing a swift collaboration between the people involved in the translation process was an important objective for them. They lacked tools that could accommodate their joint effort and collaboration during their company's rapid expansion into the global market.
Solution
Taking into consideration the challenges Popsy was facing in their localization journey, after trialing our localization platform, they discovered that POEditor was "the standout choice" for their translation and localization management needs.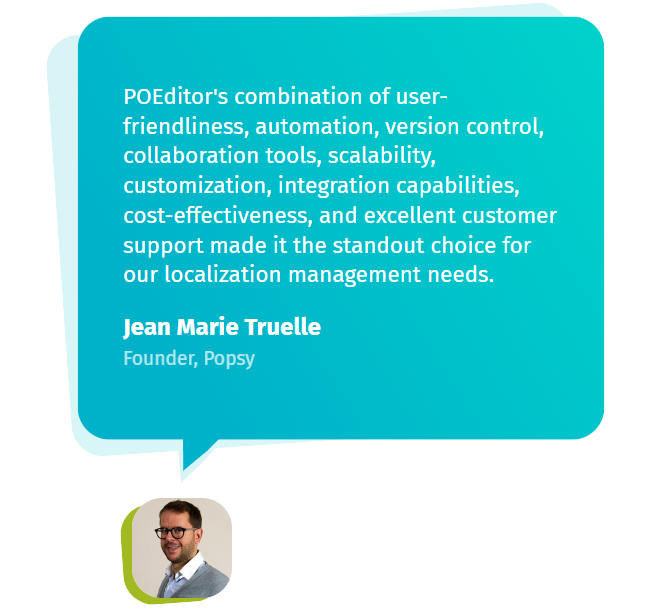 Their expectations revolved around efficiency, user-friendliness, collaboration capabilities, version control, scalability, customization, integration, cost-effectiveness, and excellent customer support. According to their feedback, POEditor did not just meet these expectations, but exceeded them.
Collaboration tools
POEditor came in handy to solve the pressing issue of streamlining collaboration, by allowing users to integrate communication tools into their workflow. Out of the integrations made available by our localization management software, Popys's preferred one is with Slack, the messaging app for businesses. The Slack integration allows the Popsy team to get notifications regarding important events in their localization projects in real-time.
The Popsy team can also take advantage of other features our platform has to offer for the purpose of enhancing their collaboration: the UI notification system, the comments system, POEditor teams and POEditor organizations.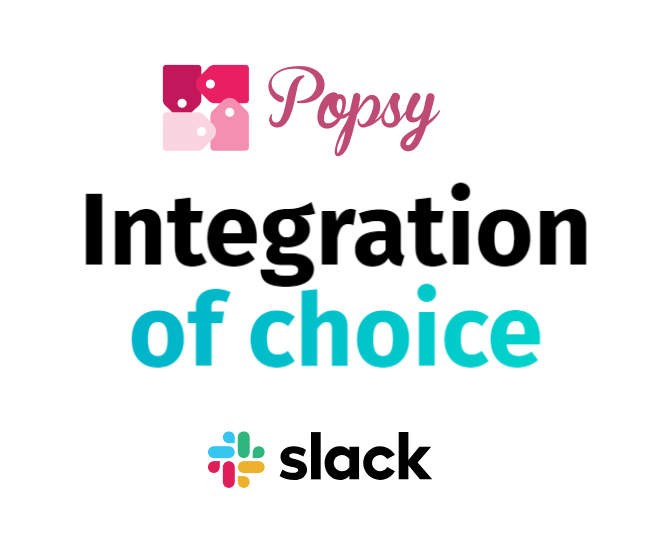 Version control
An essential part of localization which Popsy looked for in a localization tool was version control, a process which would aid them in tracking changes in the localized content, as well as in handling any errors made in the process. 
Popular features available with POEditor for version control are integrations with Git hosting services and the History module.
Automation
The Popsy team specifically looked for a localization management solution that could help them with automation, so they could complete their work easier and faster. They found a reliable partner in POEditor in the sense that they could benefit from a localization management ecosystem that is packed with localization automation functionalities.
From features like Automated Quality Assurance Checks and Translation Memory Suggestions to developer tool like our REST API, Popsy significantly reduced the amount of work they put into their localization workflow. As a bonus, the Popsy team reported that they had a breezy experience working with these features, due the their user-friendliness.
Benefits in numbers
After using POEditor for five years, Popsy noticed a few notable improvements in their localization process. The impact our platform had on their business was marked by certain key points:
Time Saved: The team took about 30% less time on average after starting to use POEditor to localize in several languages. As a result of using our platform, they cut their localization time in half and they were able to bring products to market faster and take better advantage of market opportunities.
Cost Reduction: Costs associated with localization have decreased by 15% as a result of working with POEditor. They have also been able to  maintain translation quality while enjoying an affordable option for localization. 
Translation Accuracy: The version control and collaboration tools have led to a 25% improvement in translation accuracy for Popsy, which also showcased a notable reduction in translation errors.
Conclusion
For Popsy, using POEditor implied a lot of positive aspects and had a remarkable impact in the way they developed their business. Thus, there were numerous quantifiable ways in which our platform improved their performance: time saved, cost reduction, increased revenue, translation accuracy, scalability, product launch speed, content management efficiency and user satisfaction.