At POEditor, we understand the importance of data security and ensuring that your valuable translation strings are protected. While our platform offers robust data management capabilities, it is always recommended to have a backup strategy in place.
In this article, we list what options you have for backing up POEditor strings, helping you safeguard your linguistic assets and enjoy peace of mind.
Automated translation backups
Translations are automatically backed up in POEditor by the History module and by the Translation Memory module. These options allow you to easily recover translation data when needed.
While the History module is available to all POEditor users, the Translation Memory feature can be used only with a paid plan.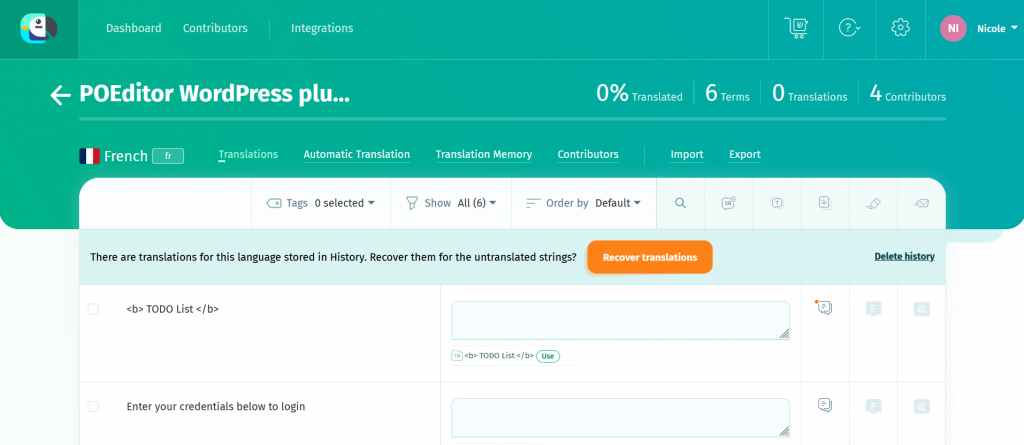 These options run in the background and do not require that you make any special setup.
Back up POEditor strings with version control systems
Integrating POEditor with a version control system, can be an excellent backup solution. By linking the languages in your POEditor projects with popular Git hosting services, you can track changes made to your strings, revert to previous versions if needed, and keep your translation data safe in a centralized repository.
Follow our best practices for syncing translation strings with your repos to get maximum effect with minimum effort.
Back up strings with the API and scripts
To streamline the backup process and eliminate the risk of oversight, consider setting up automated backups for your localization strings. Leverage the POEditor API and scripts to automate export tasks and store your backups in secure locations. By scheduling regular backups, you can ensure that your linguistic assets are consistently protected without any manual intervention.
POEditor is a great solution for managing the translation of your software strings, but should not be used as a final backup destination for your localized strings. So, as attractive as the benefits of reading language files from an API may appear, there are issues with this approach, so we advise against it.
Conclusion
As a team dedicated to providing the best localization management experience, we emphasize the importance of backing up your POEditor strings.
It is a good idea to check the integrity of your backups to ensure that all necessary strings are captured and that the backup process is functioning correctly. Periodically validate the restore process to guarantee that your backups can be successfully restored if the need arises.