Our team has been keeping busy this past season – as per usual 😊 – to make your translation and localization management experience better with our software. We've been working on various POEditor product updates, some more user-facing than others. Below, we've put together a list of some things we've removed from our backlog, among the most highly-requested.
New login options
Among the latest POEditor product updates are also support for two-factor authentication and email login. 2FA sets an extra layer of security on your account, by asking for a code when you log in, which is generated by an Authentication App set up priory by you on one of your devices. Email login allows you to sign in to your account with your email address and a one-time sign in code you receive on email, so you won't need to use a password.
QA Checks module enhanced
Previously available in the form of real-time translation notifications, the QA Checks module has been improved in two ways. On the one side, the QA checks list has grown to encapsulate more errors. On the other, you can now filter the translations with detected errors from the ones without. Consequently, this will speed up the process of fixing any mismatches between the source and target strings.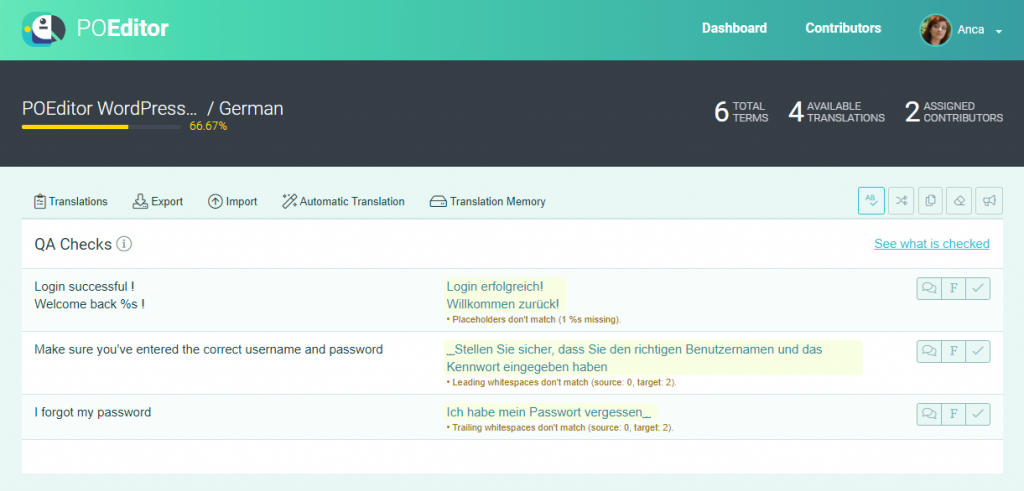 If you're interested to learn more about the available options to sign in to our localization management platform, you can find a full list here.
ICU for plural rules
As of recently, POEditor also understands ICU message syntax for plural rules. If a string in your source language contains plural-specific ICU message syntax, our localization platform will detect it. On this occasion, you will see an eye icon at the bottom right corner of any translation box in the translation editor. Clicking on this eye icon will open an ICU Editor, where you can specify translations for each plural form.

Export empty translations option for API
Mirroring the option already existent in the user interface, the Export empty translations option is now also available with the API. To change this localization project setting via API, you can use the method projects_update with the argument fallback_language. The value of the fallback_language should be the code of the language from which you want to export empty translations.
TextMaster integration is back
Finally, we're happy to let you know the integration with the language service provider TextMaster is once again available. So, when you order translations, you can now choose between two providers. Both Gengo and TextMaster offer two pricing tiers, each recommended for particular translation needs. The language pairs offered by Gengo are listed here and the ones offered by TextMaster are listed here.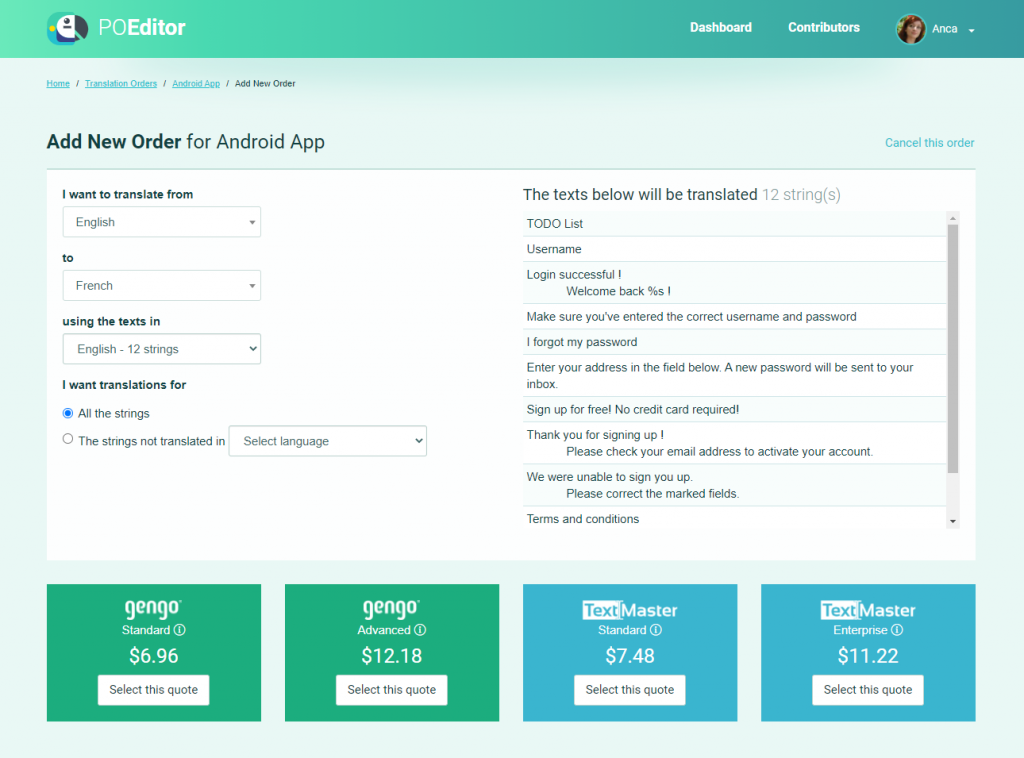 If there are particular POEditor product updates you'd like to see in the future, we'd love to hear about them! The best way to contact us is on email, at info@poeditor.com – and we'll get right back to you!