Whether you're translating something with a few strings, like a theme or an app, or dealing with something with a zillion strings, like a big website, there's one thing that will always come in handy to the localization manager: statistics.
Statistics can be helpful for many things, among which evaluating the general translation progress of the software localization project and calculating fees for translators.
The POEditor localization management platform comes with two categories of stats: for project owners and administrators, and for contributors.
What stats pages look like
At the top of every Statistics page, some general information about the localization project is available, such as the project name, the amount of terms in it, and the total of words and characters these terms sum up. Some users can see more information in this area, as a result of their role in the localization project and the Stats page they are on.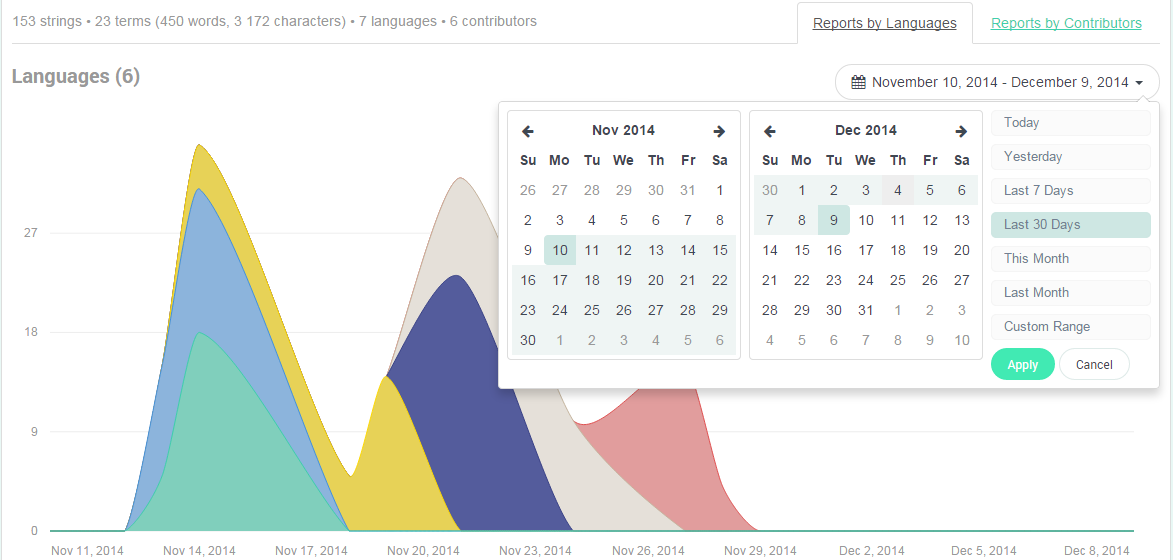 The Date Range Picker, which can be found at the upper right side of any Stats page, allows you to choose the time frame for the displayed activity.
If you want to download the information generated  in your Statistics page, simply click the Export link at the bottom of the page, and you'll be given an .xls file with all the details.
Statistics available for project owners and administrators
Project-level stats can be accessed using the Stats button in the Project page, and are grouped under two tabs: Reports by Contributors and Reports by Languages.
On the Reports by Contributors page one can find the following information about contributors: name, email and the number of strings they've translated.
Clicking on the contributor's name reveals more details regarding their translation work: the language(s) in which translations were made, the number of translated strings (Translations), how many words and characters these strings represent (Words, Chars) and what percentage of the language was translated (Percentage). Having a Reference Language set on the project will make two more columns appear: Reference Words (RC) and Reference Chars (RC).
In Reports by Languages, one can see all the languages in the localization project with translation activity, in the period selected with the Date Range Picker. The percentage of completion and the number of translated strings is also available for each localized language. To see who contributed to the languge localization and to what extent, just click on the language.
Statistics available for contributors/translators
Contributors can access their own statistics by clicking on the Translation Stats button in the Language page. Here, they can see their contribution to the language localization process: Words, Chars, Translations (number of translated strings) and the Percentage of completion. For software localization projects with labels, that have a Reference Language set, Reference Words (RC) and Reference Chars (RC) are also visible.