When it comes to the translation part of a localization process, one of the most important aspects is proofreading the translations. Before exporting the localized strings back to your website, app or game, you will want to make sure they've been well adapted to their context and are, indeed, good to go. What's the best way to achieve this? Assigning some proofreaders to your software localization project, of course.
In this post we will show you how our most recently implemented feature works. As usual, the POEditor translation interface makes things really simple.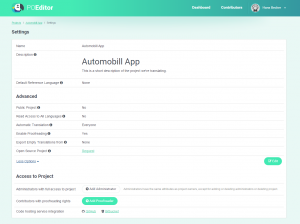 As we did not want to clutter the localization workspace for anyone, to make use of the new proofreading feature, you will have to enable it on your project first. Just go to Project Settings and in Advanced Settings, set Enable Proofreading to "Yes".
Once proofreading is enabled, a button will appear on the Project Settings page, which will make it possible for owners and admins to assign new proofreaders to the project from the current list of contributors. Any contributor added as a proofreader will be able to proofread the translations made in any of the languages he is assigned to. If the contributor is removed from the contributor list, he will also be removed as proofreader from the localization project.
The proofreading flag is only visible to proofreaders. In spite of this, if a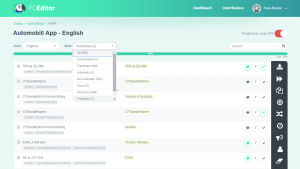 contributor tries to edit a translation that has already been proofread, a notification will appear to warn that proofreading will be reset if he or she proceeds with the editing.
As it would be expected, the proofreading option, once activated, comes with a new couple of filters to sort translations by: "Proofread" and "Not proofread". These can be used both while translating and on export.
As the majority of our most recent localization features, proofreading was added as a result of popular demand. Keeping the translation interface neat and simple remains our core principle, and this is why we hesitated a bit to develop this option, but the conclusion we came to, of making it functional only for those who choose to use it, should make everyone using the POEditor localization platform happy. Any suggestions are welcome.