The easy to use,
easy to afford translation
management system
Tackle localization management like a pro. Use scalable translation and localization software that's both budget and user-friendly.
Sign up now
Continue with Google
We offer adaptable translation management software for various platforms
Whether you want to manage Android or iOS localization, or you have other digital assets to translate - from surveys to games, our translation platform covers a wide range of localization file formats.
Discover the benefits of team-centric translation software
See the key gains of working with our translation management software
Centralized translation
Online translation editor
Offer your team the convenience of working with a collaborative translation editor, that can be accessed from anywhere in the world, at any time. Real-time updates will provide your team the transparency it needs to work efficiently.
Get Started for Free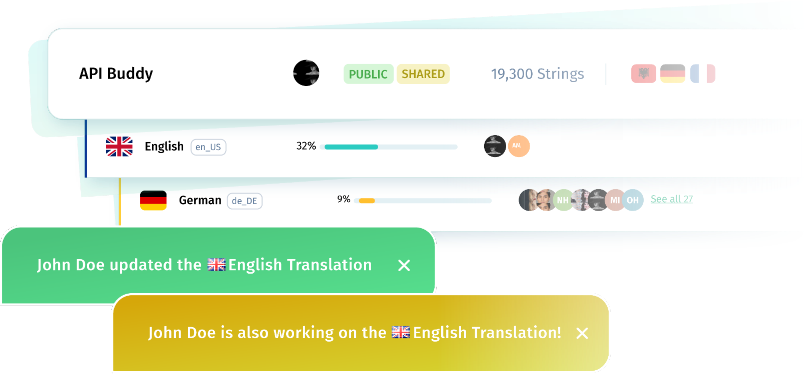 Quality Assurance tools
Glossary and Automated QA
Define terminology for your digital assets using glossaries and assign them to the relevant projects to assure consistency. Get automated Quality Assurance checks while the translation process takes place, to avoid common errors early on.
Get Started for Free
Integration capabilities
Figma, WordPress, Chat and Git hosting service integrations
Whether you want to integrate localization from design stage, connect to a Git repo or WordPress, or receive notifications on Slack or Microsoft Teams about events in your projects, our translation management system has the right connectors for all these processes.
Get Started for Free